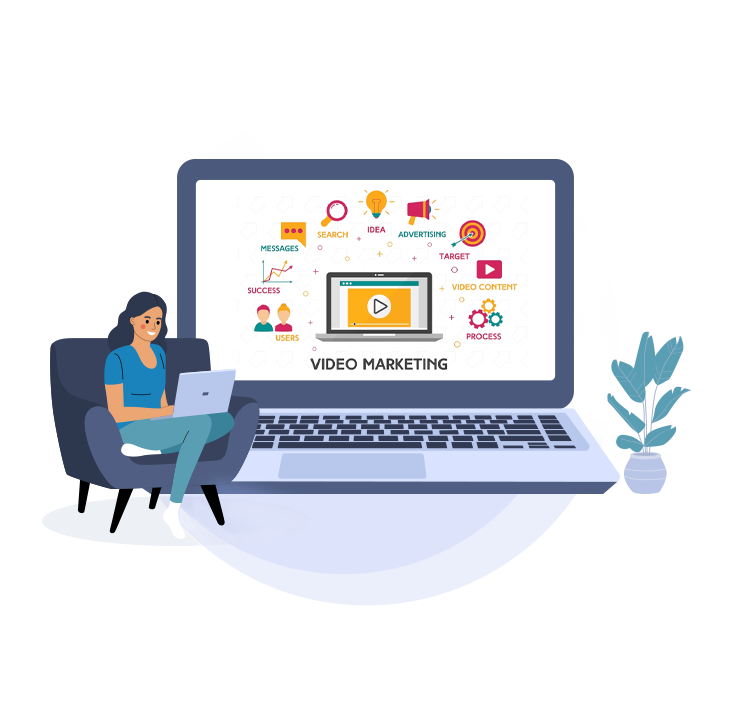 Engage your audience through Video
We DIZITAL UDYOG a Video marketing company that can help you create an impactful and effective video that will help you reach your business goals. We combine creativity, technical expertise, and strategic insights to deliver videos that captivate audiences and drive meaningful engagement.
Video is undoubtedly one of the most engaging and effective ways to communicate with your audience. As a marketer, it is essential to recognize the power that video has in capturing people's attention and keeping them engaged. By incorporating video into your content strategy, you can take advantage of its ability to convey emotions, tell stories, and provide valuable information.
Elevate Your Brand's Reach with Dizital Udyog: Your Trusted Video Marketing Company
Welcome to Dizital Udyog, the leading video marketing company dedicated to helping businesses expand their reach and engage their target audience like never before. In today's digital landscape, video content has emerged as a powerful tool for capturing attention, conveying messages, and driving conversions. As a forward-thinking organization, we understand the immense potential of video marketing and offer tailored solutions that deliver exceptional results.
At Dizital Udyog, we specialize in creating compelling and impactful videos that align with your brand's vision and goals. Our team of experienced professionals excels in crafting visually stunning and emotionally resonant videos that leave a lasting impression on viewers. Whether you're looking to promote a product, educate your audience, or build brand awareness, we have the expertise to bring your ideas to life.
Why choose Dizital Udyog for your video marketing needs? Our unwavering commitment to excellence sets us apart. We combine creativity, technical expertise, and strategic insights to deliver videos that captivate audiences and drive meaningful engagement. We understand that every business is unique, which is why we take a customized approach to every project, ensuring that your video content stands out in a crowded digital landscape.
Partnering with Dizital Udyog means gaining access to a comprehensive range of video marketing services. From conceptualization and scriptwriting to production and distribution, we handle every aspect of the process with meticulous attention to detail. Our team leverages the latest industry trends and technologies to create videos that make an impact across various platforms, including websites, social media, and online advertising channels.
Brand Voice
Trust & Authenticity
Brand awareness
Audience, Personas and Journey
Generate unique design graphics
Search engine friendly elements, logos etc
Catchy slogans and taglines
Expand each slogan with a list of phrases
Video Creation and Schedules
Multi dimensional engagement
Attractive video content
Animating
Shot listing
Trending & Buzzy contents
Variety of video formats like doodle etc
Emotions version & Rational way
Human perception of video
Connect your brand & content
Key video marketing stats
Key online influencers, Journalist etc
Define clear goals and choose right platforms
Monitor brand mentions and use hashtags
Outline and set KPIs
Track, monitor and report on a monthly basis
If you think a classic marketing spot is the only type of video you can use for marketing, you are sorely mistaken. 
There are many different types of content you could employ, and the right choice depends on many factors, such as the platform you are posting on, your intended audience or the phase in your buyer's journey.
As video content continues to be a popular medium for brands and individuals, it's essential to understand the phases involved in creating an engaging and effective video. While every project is unique, there are generally three main phases involved in creating video content: pre-production, production, and post-production.
Video ads will typically be only a few seconds long. A tutorial for your customers could be pretty long – up to ten or fifteen minutes, if you are showing something relatively complex.
An in-depth behind-the-scenes video could be even longer, but make sure to keep it interesting!
 The answer to this question depends on your business' brand and what purpose you want the video to serve.
Some of the biggest magnets for audiences are news and comedy, but that is speaking very broadly.
A good general rule is – try to make engaging content. Whether people are watching just for fun or they're looking for specific answers, nobody wants to be bored!
Dizital Udyog in Dombivli is the perfect choice for business owners from various regions who are seeking for Website Designing , Website SEO, Social MEdia Marketing , Ads and other Digital Marketing Services in any of the cities in Thane Districts. Dizital Udyog is only a 5-minute walk from Dombivli Railway Station. Dizital Udyog, a Digital Marketing Agency, is also conveniently accessible from Dombivli's neighbouring railway stations such as Diva, Kalyan, Titwala, Ambernath, Badlapur, Ulhasnagar, Karjat, and Kasara.

Address
C348, Kasturi Plaza, Manpada Road Ramnagar, Dombivli EastMumbai-421201
Phone
+91 8928495833+91 9004900100